Selling your used HP laptop can give you extra dollars and is an eco-friendly solution.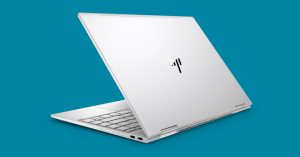 Looking to give a second chance to your used HP laptop? It's an environmentally friendly and budget greatest idea to resell your pre-owned HP laptop. There are more and more people that are conscious that their old gadgets hold value, especially if the device is in good condition and fully functional. You'll find several options online, but the challenge is to find a legit place that offers to pay you a decent price for your used devices. Below, we share some tips to HP laptop trade-in and  some suggestions for good places to sell your HP laptop.
What To Do Before HP Laptop Trade-in?
Whether you are looking  for extra cash or to pay part of the funds for a new laptop, you need to get your HP laptop ready for resale. You'll get a good value if you have properly taken care of your device. Check out if you did it reading our article 6 tricks to ensure the lifespan of your laptop. Below, we share some insights to prepare your HP laptop.
Model Number:

You'll need the model number information to help you to determine the exact hardware you have. This will make it easy to find the right replacement or even to resell it for cash online.  See our guide on

how to find a laptop model number

.

Back up:

save all your personal information, like pictures, documents, videos using an external hard drive or dropbox.

Sign out your accounts:

to prevent the next user to have access to your sensible information. Make sure to log off from your email accounts, apps and any other service from your  Windows.

Tidy up:

your laptop from dirt with a soft lint.
Where To HP Laptop Trade-in For Top Value?
Trustworthy Reseller
 Gadget Salvation
The easiest and quickest way to sell your used gadgets such as laptops, smartphones, MacBook and more, is Gadget Salvation.Gadget Salvation is a legit middleman service that purchases pre-owned gadgets online and pays cash for them. This is a great option if you are looking to get some extra cash for whatever you need.
To HP laptop trade-in at Gadget Salvation, you'll need to use its online estimator to get an instant quote. Then, you'll need to answer a few questions about your device condition in order to calculate its value. Once you accept the purchasing offer, you'll get a USPS prepaid shipping label to send your goods. You can trust your goods with them, you receive a tracking number by email and you can check anytime where your goods are. Plus, they are accredited by the Better Business Bureau with A+ grade for its excellence service. The company was founded in 2008, and has helped over 120,000 customers to sell HP laptops and paid more than $10 million. Overall, the site pays higher quotes for used devices and fast payment is guaranteed within two working days from the reception of your goods. They have several options of payments such as Zelle, PayPal, Venmo or Check.
Best For Gift Cards As A Way Of Payment
Best Buy
Best buy is a well-known retailer which has an online and in-store trade-in service. The company accepts trade-in laptops, cellphones, gaming consoles, PC's and more in exchange for a Best Buy gift card. This option is good, if you are considering getting products from Best Buy. To trade in with them, you need to be 18 years old and verify that your device is available in store to trade in. Due to the pandemic, we suggest using online service. You'll need to find your model along with its specs of the device you want to sell on its website. Then, answer questions about the HP laptop condition to get a quote. They,also, send you a prepaid shipping label. The whole process takes 10- 12 days to get your electronic gift card by email that you can use to purchase online or in-store.
Other Online Options
Selling your devices by yourself, perhaps, can give you the most profit but it requires work and time to invest. If you feel that you can deal with all the selling process by yourself, which includes,  listing, searching price, taking pictures, arranging one-to-one meetings and paying shipping fees, then, this option is the more suitable for you. You can use online platforms to help you to connect with potential buyers.
Craigslist
Craigslist is an online site for ads that connects you with people that are interested in your ad. You can sell whatever you want on this website, including your HP laptop. The site has several categories and subcategories. For instance, to place your announcement " sell HP Laptop", you need to have a verified email account, then select "for sales" and add a subcategory "computers" . Afterwards, you have to list and add an accurate description of your item to 
eBay
It's another solution to find buyers and more importantly, it's safer for both, seller and buyer. The platform requires you to create an account to list your device on this platform. However, the downside of eBay is that they charge your 10 percent of fee from the total amount of your sale. Duly note, that PayPal is the standard for payment processing on eBay, therefore there is a charge of 2.9% of processing fee from the company, in addition to the set rate of $.30 for each eBay selling transaction.
Final Thoughts
Did you know that your used HP laptop holds its value? If you have taken good care of your device and its cosmetic condition is good, you can get paid decent cash for it. We have shared some places to do it and each of them have its own advantages and disadvantages. However, it's up to you to decide which one works best for you.