We have selected some of our favorites two in one gaming laptops.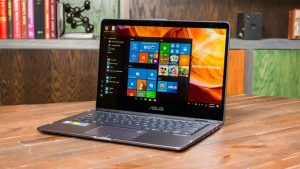 Overall, convertible laptops are built as light, thin, portable and power efficient machines, But, when it comes to gaming laptops, is not that exactly what we have in mind, for instance, a gaming laptop ASUS Alienware G750J is quite heavy. However, convertible gaming laptops try to achieve fitting gaming hardware in a light format. Duly note that, convertible gaming laptop is also known as a 2-in-1 gaming laptop or tablet laptop and laptop tablet.
What To Expect?
Before getting a convertible gaming laptop, there are some things you need to keep in mind. First, the cost, expect that these laptops on the list will be expensive. In general, convertible gaming laptops are more expensive than a no-convertible one. Second, the graphic card, is amid range mainstream NVIDIA GTX 1050Ti, that supports all the latest titles at high graphics with FHD resolution. Third, the processor, you can find high performance processors, for instance an Intel Power Efficient Processor Core I7-8550U.
Which Are The Best Convertible Gaming Laptops?
Although there are other models that are quite interesting for 2-in-1 gaming laptops 2020, in this article, we are going to show you our three favorite convertible gaming laptops.
Lenovo Flex 5
The Lenovo Flex 5 is known for its high quality image and performance. It has a 15.5-inch screen and it displays a bright and vibrant color balance on it. Ideal for movies or games because it offers a great experience in quality image with 4K resolution.
Furthermore, the Lenovo Flex 5 has a powerful hard drive. This device drives an Intel Core dual-core Core i7 processor and 16GB of RAM. This device can comfortably handle a great amount of workload without slowing down the system. However, the downside is the battery life which is below the average.
HP Spectre X360 15-inch 2019
Another favorite convertible gaming laptop for us is the HP Spectre X360 15inch (2019).This  is one of the best 2-in-1 laptops and it has a head-turning design and a powerful performance. This device is driven by an 8th generation Intel Core i7 CPU, NVidia GeForce GTX 1050Ti graphics, 8GB- 16GB of RAM and a storage of 256GB SSD – 2TB SSD.
About the external look, it has gorgeous design with a sophisticated matte "Poseidon Blue" chassis fringed with a gold color trimming around its edges. In addition, it has a screen 15.6-inch UHD (3160 X 2140) LCD touchscreen that comes with 4K, IPS display features. Therefore, the high quality image is amazing for videos and games on the screen, and the 60Hz refresh rate to ensure a smooth and accurate tracking.
Furthermore, the laptop comes with HP TrueVision FHD, IR webcam and dual array digital microphone, that you can use when you have a conference for example. The IR webcam is used for facial recognition via Windows Hello in order to unlock the device, making it easy to login and most secure.
ASUS ZenBook Flip 14
Another device is the ASUS ZenBook Flip 14 slim. This device has integrated graphics processors that are more power-efficient and run cooler. This device is driven by an entry level Nvidia GeForce MX150 into the Flip 14's thin body. Although it is not a full-fledged gaming device, it works well on titles in a smooth and fast way in a two in one laptop. Plus, it has a great battery life, a lot of USB ports and a backlit keyboard.
Today we see more brands manufacturing convertible gaming laptops. Do you think two in one laptops will change the way gamers play titles? Last, but not least, if you want to trade in laptops online for cash, go and check Gadget Salvation site. You will find great prices for your used gadgets.