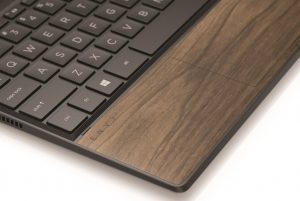 HP Envy series is one of the most versatile forms of PCs made by HP. These laptops are known for their processors as well as their graphics. Its latest models had come along with the latest Windows. These laptops come with absolute technology that includes CoolSense technology for example. The CoolSense detects the running of demanding applications and programs. Also, the fan automatically adjusts its speed.
Furthermore, some of these latest laptops include leap motion technology. It can detect natural movements, and can provide the user with a fully 3D experience too. Duly note that this laptop is also great for entertainment purposes.
The HP Envy series also includes hybrid models. These are the combos of notebook and tablet. Therefore, they can be converted into tablets with touchscreen capabilities and again turned back to the regular notebook laptops.
HP Envy Laptop Series:
HP Envy X2
HP Envy X2 These include two generations of 2-in-1 laptops. The 1st generation of these laptops came in 2012, which are compact laptop hybrids. It includes a 1366×768 resolution and 11.6-inch screen and, with keyboard dock armed with two USB (2.0) ports, a full-sized HDMI connector, SD card(slots). This device runs on a 1.8 (GHz) Intel Atom Z2760 processor. It comes with window 8, which can be upgraded to Windows (10) Home. 
The 2nd generation came in (2017) and had a window of 10. It has (1920 × 1280) display and is 12.3 inches, and also consists of a moveable keyboard. Have 20 hrs of battery backup. There are two processors and also OS options, 7th – generation Intel Core i-series processors with Windows 10 Home and the ARM-based on Snapdragon) 835 to Qualcomm Windows (10 S) and can be easily upgraded to the windows 10 Pro; the connectivity on both is limited to a microSD card reader and a USB-C 3.1 port.
HP Envy 13
It came in 2009 and also a mobile phone 1.86 GHz CULV, and it has 3 GB of DDR3 and the entrance-level and ATI Radeon with 4330 graphics. The Envy 13 (13.1-inch) HP LED Ultra Infinity display and a resolution of 1366×768. It is there as an upgrade as the much-praised HP Radiance Displayed with a 1600×900 resolution. It was launched with a price value of $1,799 and later fell to $1,299. The 2017 model has 16GB of DDR4 RAM, 8th gen Intel Core i7 chip, aluminum chassis, a 512GB SSD, and GeForce MX250 graphics card.
The 2020 model has 10th gen Intel Core CPU, 13.3-inches of FHD display, Dimensions are 1.3kg Weight, 512GB SSD (8GB RAM).
HP Envy 14
It was launched in 2010, with and 14.5″ HP Infinity LED and a 1600×900 resolution. It also provides more battery life. Envy 14 also has a Wireless-N Intel Card, a back-lit keyboard. The Envy 14 as well as has a specific Beats edition with a black design and (red) and (back-lit) keyboard, which ranges at the cost of $ 1,099. The price of this model is $999.
HP Envy 15
It contains mobile Intel Core i5 and i7 processors, can hold a max of sixteen GB of RAM in 4 (DIMM) slots. This uses the 40 nm, which is of ATI with graphics memory. This comes with a display of 15.6 inches (HP) and 1366×768 and (1920 × 1080) resolution. It has a webcam that contains dark vision. It is designed with 2.5 a single serial ATA drive with solid drives configuration is also available two 1.8″ SATA drives. This model's price is $1,999 and has price loss dropped to $1,299.
HP Envy 17 (2020)
It was launched in 2010 and also had a Blu-ray choice, equipped back-lit keyboard. It has 1920 × 1080 resolution, which is optional, has an option for double hard-disk or SSD, Mini DisplayPort. Traits of Envy 17 and a 3D with (1920 × 1080) display also have 3D glasses with them. The Envy 17 launched in the 2020s (10gen/11gen Intel Core (CPU). This is a good option for people to use.
How Much is HP Envy Laptop Worth?
Your used HP Envy series laptop holds value depending on the condition, year model and specs. You can trade in HP laptop for cash at Gadget Salvation and partially cover the cost for a new device, whatever it may be. We suggest to read our piece for tips on how to sell your laptop for the most value.  Below, you'll find some examples of what you can get for HP Envy series laptop for reselling.
Bottom Line
The HP Envy series offers versatility, turning the laptop whether into a tablet or a notebook, without compromising performance. There are several models and configuration to choose from this lineup along with different prices. However, if you want to get extra cash to pay part of the funds for a new device, trade in HP laptop with Gadget Salvation. It's the most convenient and secure way to sell your used gadgets online. Plus, payment is guarantee after two business days from the reception of your goods.  Visit the website and see how much you can get for HP laptop trade in.