HP Spectre x360 is a great product that has gained popularity for its cool-looking design.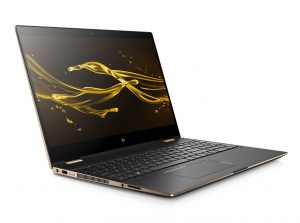 The latest upgrade of this version is the 11th-Gen Intel Core i7 processor which increase performance dramatically. The laptop now delivers a great user experience, and has been built on the Intel Evo platform. Moreover, it provides features like an instant resume option, fast boot time, improved data transfer rate, and increased on-battery time. We have spotlight our favorites specs & features of HP Spectre x360.
HP Spectre x360: Design
HP Spectre x360 has gone through many designing changes. Moreover, with the lightweight and thin design, this convertible laptop takes the portability of the laptop to the next level. In addition to the HP Spectre x360 comes with a single-piece aluminium frame. This enhances the design even more. The premium-looking silver colour is carried throughout the laptop. Whether it is the power button, the keyboard, or the fingerprint scanner, all the parts carry the silver colour through them.
HP Spectre x360: Display
The display of the HP Spectre x360 13″ is an IPS LCD touchscreen, and a Full HD display of 13.3- inches. Moreover, the display of the laptop is vivid, bright, and responsive at the same time. You can also covert your laptop into a touch screen pannel because of the stylish 360- degree hinge. However, the set-up of the built-in speaker is not that great.
Still, the overall quality of the display and design of the laptop is great and is better than previous generations.
HP Spectre x360: Performance
Performance levels of HP Spectre have increased dramatically with the recent upgrades. The HP Spectre x360 is now powered with a powerful Intel Iris Xe GPU and an 11th-Gen Intel i7 processor. Therefore, now the laptop can handle great stress without any hesitations. For instance, the laptop can now handle heavy tasks like video encoding and photo editing. In addition to this, the laptop can also be used for gaming. However, the experience of gaming will not be that powerful. Thus, we suggest to read the most powerful gaming laptops for 2021 piece.
Due to these multiple features, the HP Spectre x360 is one of the best 2-in-1 laptop that is great for day-to-day usage. This is also the reason why this laptop can be a great option for data analysts, content creators, and heavy users.
Other than performance, the user will also be impressed by the way in which HP Spectre x360 manages day-to-day tasks. It has very little boot timing and allows you to sign in very quickly. Moreover, it swiftly takes you through the security features like fingerprint scanner and faces recognition. This is all thanks to 512GB of lightning-fast SSD and 16GB of humungous RAM. So the operations like opening many tabs at once, moving the files from one place to another, and working on heavy projects.
Even though the power of the laptop has been increased, the HP Spectre x360 has not compromised its battery life. The laptop is capable of working for almost twelve hours on a single charge with turned-off keyboard backlighting and 50% screen brightness.
So users can easily expect at least three to four hours of battery time if heavy work is done on the laptop. In addition to this, no matter if the laptop is connected to a power supply or not, it works the same in both cases.
However, the HP Spectre x360 is still not a perfect laptop. It also has some issues like its heating issues. The HP Spectre x360 heats even while handling simple tasks. Moreover, the fans are also not able to help that much in lowering the temperature.
How Much is HP Spectre Worth?
To sell HP laptop in the most convinient and quickest way, Gadget Salvation is the best solution. You can sell your device for cash in just a few simple steps. Here are some examples of what you can expect to receive in cash via PayPal, Chase QuickPay, Bank Transfer or by Check.
HP Spectre x360: Verdict
.The 11th-Gen Intel core i7 gasp achievement in the amazing-looking (HP Spectre x360)convertible laptop made it almost a perfect thin-and-light notebook. Almost perfect because of some issues that affect its utility.
This laptop lacks a GPU, but there is no other laptop with this light that also comes under a discrete GPU. The Asus ZenBook Flip S UX371 and Dell XPS 15 are the two other options you might like to check out.  Also, if you are more into gaming, we suggest you to read our top 3 convertible gaming laptops piece.
Last but not least, don't forget that you can easily do laptop trade in for cash with Gadget Salvation!