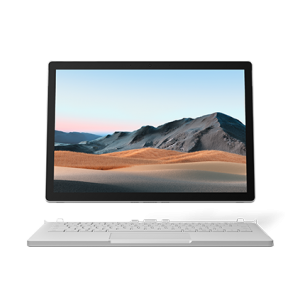 Not many laptops out there can claim to have created entirely new product categories that didn't exist before, but Microsoft Surface Book 3 15" is a notable exception. First introduced in 2015, the Surface Book took an unconventional approach to hybrid laptops. It had a fully detachable screen and processors in both halves of the laptop. Hence, the tablet could function as a standalone device and then be converted into a laptop with a snap. The original Surface Book was succeeded by the Surface Book 2 in 2017, and in 2020 Microsoft released the third generation of their innovative convertible notebook computer. The company offers both 13.5-inch and 15-inch models of the Surface Book 3; in this article, we will focus on the 15-inch model. Also, take a look at our recent review of the Microsoft Surface Pro 7.
Microsoft Surface Book 3 15": Pricing and Configurations
The Surface Book 3 15" is not the cheapest laptop on the market, but it offers a unique blend of useful features, flexibility, computing power, and portability. So, it's well worth the price. Microsoft currently offers 3 configuration options of the Surface Book 3 15". The base model starts at $2,300 and comes with a quad-core 10th Gen Intel Core i7-1065G7 processor, 16GB RAM, 256GB SSD, and NVIDIA GeForce GTX 1660 Ti graphics with Max-Q Design with 6GB GDDR6 graphics memory.
For $2,800, you will get the same i7 processor, plus increased 32GB RAM and 512GB storage. The most expensive model costs $3,000. It comes equipped with Intel core i7 processor, 32GB RAM, 1TB SSD, and NVIDIA GeForce graphics. Microsoft often runs promotions on its products, including Surface Book 3 15", so it's worth keeping an eye on the deals and comparing prices before purchase.
All Microsoft Surface Book 3 15" models feature PixelSense display with 3240 x 2160 resolution, 3:2 aspect ratio, and 1600:1 contrast ratio. Windows 10 operating system is installed, and new Surface Book owners will receive Microsoft 365 Family one month trial. Microsoft 365 Family subscription can be used by up to 6 people. It includes all the premium Office apps, such as Word, Excel, PowerPoint, and others. Shoppers also can purchase an optional Surface Pen to take full advantage of the touch-enabled display for easy drawing, writing, and sketching.
Design
The design of the Microsoft Surface Book 3 15" is not that much different from the original 2015 version, but it's not a bad thing. The design is simple and unassuming, which doesn't distract from the device's powerful characteristics. The laptop has a solid build, with a spartan gray magnesium outer case and shiny Windows logo that defines the series. There is a notch on the front edge to lift the lid. Otherwise, the deck, keyboard and tablet are all smooth, minimalistic surfaces. The Surface Book 3 15" certainly looks and feels classy and premium.
The third generation of the Surface Book is still the only device on the market that packs additional battery life and discrete graphics in a detachable keyboard. So, if you're looking for a computer that serves as both tablet and laptop, the Surface Book 3 is the only choice. Unless you prefer 2-in-1 hybrids with type cover-style keyboards. Once you detach the tablet, you can reattach it by lining up the connectors with those on the deck. It's worth noting that removing the tablet requires two hands – one holds down the deck while the other pulls upward.
According to Microsoft, connecting the tablet and the deck is a "dynamic fulcrum hinge." The hinge is quite futuristic and innovative; however, it leaves a gap between the lid and the keyboard when the laptop is closed. This way, the keyboard may be exposed to damage and litter when stuffed in a bag. The hinge also slightly extends the deck of the laptop. The Microsoft Surface Book 3 15" measures 13.5″ x 9.87″ x 0.568-0.90″ and weighs around 4.2lb with the keyboard. So, it's a bit larger than traditional clamshell laptops, but not that much.
The Surface Book's port selection is a bit controversial. There is no Thunderbolt 3 port on this device as Microsoft has previously described Thunderbolt 3 as a security flaw. So, some users might find it disappointing. The laptop is not all without ports, of course. On the left side you will find two USB 3.1 ports and an SD card slot. On the right side there's a single USB-C port next to a Surface Connect port. There is a second Surface Connect port on the bottom of the tablet and a headphone jack on the top-right corner.
Display
Microsoft Surface Book 3 15" certainly doesn't compromise on display quality. With a 3:2 aspect ratio, the 15-inch, 3240 x 2160 display is a great size for being productive. You can easily navigate web browsing or write reports. It also delivers a sharp image and a great deal of detail, so you can enjoy watching your favorite shows and movies. As long you stick to the sRGB color mode, the display is quite color accurate.
Microsoft Surface Book 3 15": Tablet Mode
As mentioned earlier, the tablet section of device can be removed by pressing a key and lifting the screen up. It feels quite massive as a standalone tablet, however for most people it's a matter of personal preference. It's worth mentioning that the keyboard of the Surface Book 3 doesn't connect to the tablet wirelessly. So, if you're planning to use the device mostly in tablet mode, away from its keyboard, you might consider buying a separate Bluetooth keyboard. Also, if you're using the optional Surface Pen stylus in tablet mode, you will lose keyboard support.
Audio
Since the Surface Book 3 is a convertible hybrid, the speakers are located on the lid instead of on the deck. Luckily, the audio quality is not sacrificed. The dual speakers, one on each side of the screen, deliver balanced, encompassing sound and support Dolby Atmos.
Battery Life
With one battery in the tablet and one in the keyboard base, the Microsoft Surface Book 3 has an impressive battery life. It lasts a long time on one charge. According to Microsoft, you will get up to 17.5 hours of typical device usage.
Graphics
The Microsoft Surface Book 3 15" comes equipped with NVIDIA GeForce GTX 1660 Ti with Max-Q GPU, which offers enough power and performance. For those who want even more, Microsoft offers a super powerful Quadro option with a Quadro RTX 3000 GPU. This not a gaming laptop by any means, but it can still play demanding games at high frame rates.
How Much is Microsoft Surface Book Worth?
If you happen to own previous generation of the Surface Book and consider selling it, Gadget Salvation would gladly take it off your hands for cash. That way, if you want to upgrade to the latest model, you can easily offset the costs. Here are some examples of what you can receive based on your device's condition and specs. You can find more information on Gadget Salvation website.
Conclusion
The Microsoft Surface Book 3 15" is certainly one of the most innovative laptops on the market. If you're looking for flexibility and versatility of both a tablet and a laptop, with enough power and GPU for gaming and creative work, then this device is for you. It has a vivid, brilliant display, powerful graphics, comfortable keyboard, and premium unique design. The battery life is also great and you will enjoy good quality audio. However, all these premium specs come with a hefty price tag. If you have the budget and really want to have a detachable display, the Surface Book 3 15" is the most solid choice.