Here are several places to sell your old electronics.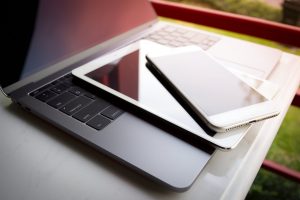 We have listed some good places where you can get cash for your electronics, from Best Buy to OfferUp. In addition, we explain what type of electronics each company accepts and the kind of payout they offer for your old gadgets.
Best Buy
How do you get paid: Best Buy store credit via gift card.
What you can Sell: You can sell iPhones, iPads, AirPods, Video Games, Streaming Media, Smartwatches, Apple Notebooks, Samsung Mobile, Gaming Hardware, PC laptops.
Best Buy is one of the most popular retailers that have a trade-in program for preowned electronic devices. The process to get cash for your electronics is easy. First, enter their website and see if your device is eligible for trade-in. If yes, make sure to provide the suitable model, configuration and describe your old device's cosmetic and functional condition. Then, the system will give you a quote offer. If you like the purchasing offer, accept it, and you get a shipping kit to send your goods. Duly note that Best Buy only offers to trade in used devices in exchange for a Best Buy gift card. You can use that credit for future purchases on Best Buy range products.
eBay
How do you get paid: in cash via PayPal or your checking account.
What you can Sell: laptops, mobile phones, antiquities, books, jewelry, etc.
Let's say you want to get cash for electronics, then you as a seller need to list the item, add photos, write a good description of the device, shipping cost, and choose the right price based on an article with the same condition yours. Afterward, buyers can bid it or "Buy it Now." When you have done a deal, buyers make payment via different payment options like PayPal, and the seller ships the product.
Note that eBay charges you a fee of the final price of your sale, and PayPal charges you a fee for using its service as a payment method. So, make sure to calculate the entire cost in your final price.
Gadget Salvation
How do you get paid: Payment in cash via PayPal, Zelle, Venmo, or Check.
What you can Sell: PC laptops, MacBooks,iPhones, smartwatches, tablets, gaming consoles, Mac, all-in-one PCs, and more.
Another excellent solution for those who want a quick sale without any hassle is to sell your used electronic devices with Gadget Salvation. Gadget Salvation is an online reseller that purchases pre-owned electronics gadgets like laptops,iPhones, tablets, gaming consoles and more, and pays cash for them. The company deals with valuation, inspection, and shipping costs, and almost the whole process is made online. The only time you leave your home is to drop off your parcel at the closest UPS carrier service.
This option is more convenient if you are a busy professional and student because you get your payout after two working days from the delivery via instant payment options or by check if you prefer to.
OfferUp
How do you get paid: Payment by cash in person or through the app.
What you can Sell: You can sell home decor, electronic devices, furniture, and more. It's not allowed to sell cultural items, animals, gift cards, food items, counterfeit items, etc.
If you want to sell your electronic items and get cash for them, you can use the application OfferUp. You need to download the app for free and list your product, including taking pictures like a pro, creating a smart title and description of the item, searching for the price, and communicating with potential buyers. If you want to have your product featured on the app, you need to pay for it. Once you negotiate the price with the buyer, either you choose cash payment in person- which is free of charge-, or payment through the app-charges you a fee for using that service-. If you prefer payment in cash in person, try to meet in a public place like next to the entrance of a store or public parking areas.
Final Words
These are some places where you can get cash for your electronics. Of course, each of these places has its advantages and disadvantages, but you get value for your old electronic devices in all the cases.