We listed a few options on how to sell your electronics online.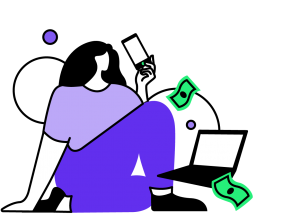 Perhaps it's time to upgrade your current electronic device, and when you type on the Google search bar: how to sell electronics online, you'll find out many options. The challenge is to find the right to sell your used gadgets most conveniently. For that reason, we have listed a few options and places to sell your old technology streamline.
Online Trade-in Programs
Retailers and manufacturers have designed a trade-in program to exchange your old electronics for store credit via a gift card. This option is suitable for users who want to upgrade the device to the same brand and want to sell the device within around two weeks. For example, Apple has an online trade-in program for eligible devices in pristine condition. The downside is that you might get lower quote offers compared to other marketplaces. Also, the store credit on your gift card is not eligible for redeeming on cold cash.
To sell your used technology through the Apple online trade-in program, you need to check if your device is legible for sale. Then, if yes, answer a few questions about your device's cosmetic and functional condition to get a quote offer. If the quote looks good to you, continue the checkout, and Apple will send you a shipping kit. After ten days, you will receive an electronic gift card.
Sell Your Electronics By Yourself
This option might take you time and effort, but it can give you extra dollars. When you sell your used electronics on your own, you cut the need for using third-party service, which in some cases charge a fee from the final sale. However, there are some sites like Facebook Marketplace where you can upload your article for free. Here, you are responsible for listing, describing products, searching prices, arranging meetings with potential buyers, etc. Also, we recommend taking extra precautions for meeting place and payment, as there are many scams on this platform.
Trusted Buyback Services
A buyback platform takes the hassle-off from listing, pricing, shipping, etc., playing the intermediate role. Usually, a buyback service takes charge of the valuation, inspection, and postage costs.
You only need to enter the correct brand and model, along with the specs, of the device you are willing to sell and answer a few questions about its cosmetic and functional condition to get a quote. Then, if you like the offer, check out to get your free shipping kit to send your goods.
After that, all buyback companies inspect the goods that match the information you entered before the checkout. If all is good, they will do your payouts within the time frame promised. For example, Gadget Salvation guarantees fast payment within two working days from the delivery via PayPal, Zelle, Venmo, or even by Check.
What is The Resale Value of Used Electronic Devices?
The value of any preowned electronic gadget depends on the brand, model, configuration, current demand, cosmetic and functional condition. Here are a few pricing examples of what you can get in cash for different gadgets in good condition and fully working.
Final Words
We hope we have answered the question: how to sell electronics online. There are plenty of options, but remember to consider time and the type of payouts for your used technology. For example, a buyback service would be better for those users looking to sell their used gadgets fast, while selling them on your own, would be suitable if you have enough time to deal with the whole selling process on your own.