Looking to turn your pre-owned laptop into cash? We shared some ideal places to sell it.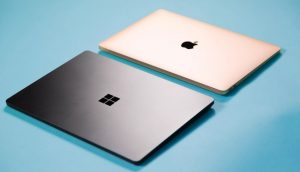 Looking for the best places to sell your used laptop and get some extra dollars? Whatever your reason, selling used gadgets is much easier today than in the past. The internet has facilitated incredibly our lives. Thus, we share some options where to sell used laptops and other gadgets easily, each of them have its own terms and conditions. Our list is divided into sell it by yourself and into instant quote services, so, let's have a look at them.
Places to sell used laptop for value
You decide to give your used laptop for resale, now, you need to know that you have several options where to sell a used laptop in order to get some dollars extra. The truth is that, whatever option you choose to sell it, you won't receive the same price for what you initially paid for. This is normal, because there are several factors you need to consider and we have listed them, below.
Fair Diagnostic your device: is it fully working? Does it have missing parts?
Cosmetic Condition: Does it show some signs of wear? Or Does it have scratches or dents?
Year model of the device: depreciation plays a role for all gadgets.
Brand: well-known brands can elevate its value.
Specs: storage size, RAM, the bigger capacity, more chances to get more value.
Accessories: if you sell a laptop and you include the charger and cord, for example, you are adding more value.
Sell it yourself
This option requires you to work on listing, taking pictures, searching price, arranging meetings and more. Perhaps, this option can give you the most profit, because you are doing everything on your own, however, time and patience are required. Plus, duly note, that you need, anyways, to use a third party service, to put your device to sale, except if you are selling directly to a closer friend. Anyways, some of these platforms charge you a fee for using its service.
eBay
eBay is one of the safest third party platforms, for sellers and buyers, when you want to sell your device on your own. The advantage of using this site is that you'll find lots of customers, protection against scams- including bad service-, and the auction option. The downside is that you'll need to pay for shipping fees and pay a percentage of the total amount of the sale to eBay-around 10 percent-.
Before you sell your used laptop, you need to create an eBay account, using a valid email address, and setting up your profile. Then, you need to select the payment method you want to accept, for example PayPal. Afterwards, you need to list the device you want to sell and enter the item description, price, pictures and include the shipping- which is at your expense-. You can get a higher price for your used laptop as a seller using the auction option. Don't forget you need to deal with all the selling processes mentioned above.
Craigslist
This is an online site that accepts announcements and classifies in different city areas. To post an announcement, you can either have or not an account, if you use a craigslist account, you need to sign up with a verified email address. Having an account enables you to revise your post or modify them. Without an account, you get an email with a link to modify or delete your ad.
In order to add your post to classifieds, select your city on the right side of the website. Then, go to post to classifieds, on the left side and either select "For sale by dealer" or "for sale by owner" areas – if you just have few items to sell, go for "by owner" – if you are recurring seller with a huge list inventory, go for "by dealer". Afterwards, click on "for sale" and choose your category, in this case, computers and enter all the information about the laptop you want to sell including price, specs, brands, cosmetic condition, pictures and include your email for users to contact you.
The good thing about Craigslist is that you can connect with several buyers and you have total control over your sale, but the downside is that you can deal with scammers. As this platform allows you to interact with several people, you need to take precautions in the payment method and your identity, for example.
Facebook Marketplace
Over here, you can sell used devices around your neighborhood using your Facebook account and selecting the Marketplace option. This option, as well, connects you with potential buyers but you need to arrange the payment method that best works for you. To sell on Facebook Marketplace, select "items" from "sell menu" at the top of the screen. Now, you're ready to create a listing for your used device. Add the pictures, description, price and select a category and condition of the device. Click on "Publish", you can decide to hide it from your friends or not.
Instant-site quote
Today it is much easier to sell a pre-owned laptop online and get an instant quote within only a few minutes. There are several retailers and trusted resellers that facilitate the selling process by using its website. Each of them has its own benefits and drawbacks. There are services that pay you cash or with gift card credit in exchange for your used laptop. We have listed some places where to sell used laptops for value, however, it's up to you to decide which one is the most convenient for your needs.
Gadget Salvation
A top place where to sell used laptops and other gadgets, such as smartphones, gaming consoles and more, is Gadget Salvation. Its service is the most convenient and quickest way to sell pre-owned devices and get paid in cash via PayPal, Venmo, Zelle or Bank Transfer. The company guarantees a fast payment of your goods within 48 hours from the reception of your goods. Perhaps, you are wondering if it's safe to send you goods to them? Gadget Salvation is legit and risk-free service to sell your goods. All your packages are secured with USPS and are traceable anytime. You get your tracking information when you accept the quote offer from them. Plus, they work with the safest payment methods such as PayPal, Venmo or even Bank Transfer.
Its website is easy to use and they have only three steps to sell your pre-owned gadgets online. To sell your used laptop and get an instant cash offer, visit their site and use its online catalogue to find the right brand and model of the laptop you want to sell. Then, the system gives you a n estimation, that you are free to accept or not. If you accept the purchasing offer from them, they send you by email a free USPS shipping label. Print it, get a box and ship your goods. Once they have received your goods, they will inspect it to see if the device condition matches with the information you described. If all is good, they send your payment as a promise during two working days.
Amazon Trade-in
Amazon has its own buyback program with automated questions to help you to sell your used electronics and pays you with an Amazon gift card. The company accepts kindles, cell phones, laptops and more. They have only an online trade-in service, visit their site to see if your device is eligible to resale. Answer some questions about its condition and accept the offer they propose. Amazon sends you a free shipping kit to send your goods. The turnover time is around two weeks in order to get an electronic Amazon gift card that you can use whenever you want and for all the things that Amazon proposes on its site.
Best Buy
Best Buy also has an online trade-in service. The company accepts to purchase old electronics like digital cameras, laptops and others, in exchange for a Best Buy gift card. The process is similar to Amazon trade-in service, you need to find your device on its site, answer questions about its condition and accept the quote offer. Best Buy sends you a prepaid shipping label and if all is good, they give a credit in your gift card for future purchases.
Apple Trade-in
The well-known manufacturer, Apple, has a trade-in program for certain types of gadgets. Overall, Apple accepts all types of gadgets but only devices in pristine condition are eligible for value in the form of an Apple gift card. If you are sure that you'll want to purchase any Apple product, then this option is for you.
In addition, Apple has online trade-in service and in-store trade-in, both are very similar, with the difference that you get instant credit in-store. The process to sell your used laptop with them is similar to Gadget Salvation, Amazon or Best Buy, in terms of answering questions about the device condition in order to get a quote. Apple takes around three weeks in order for you to receive your refund via an electronic gift card, after the inspection of your device.