A simple guide that will help you properly prepare your MacBook for trade in or sale.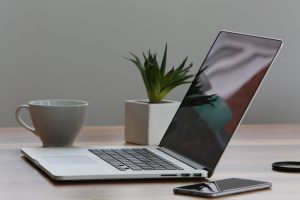 There are several steps you need to take before selling a MacBook.

If one of your New Year's resolutions was to clear out the clutter and you're thinking of selling your old MacBook, there are some steps you need to take before doing that. The better you prepare your gadget, the more attractive it will be to prospective buyers. Read our simple guide below to find out what to do before selling a MacBook. In case your Apple MacBook is broken, discover our tips on how to sell broken MacBook.
What to Do Before Selling a MacBook: Back Up Your Data
Before you do anything else, you need to ensure your data's security to avoid losing any important files. This step will also prevent potential identity threats. There are many backup options to choose from, including Apple's Time Machine backup, iCloud backup, or a third-party backup tool such as Carbon Copy Cloner.
We recommend creating two separate backups in two separate locations. For instance, a local backup using an external storage device and a backup on iCloud storage servers. That way you can be sure none of your files and important information are lost if something unexpected happens to your external drive or software.
If you already have your new laptop, transfer all the files and documents directly to it before erasing any data from your old MacBook.
What to Do Before Selling a MacBook: Sign Out
There's a good chance you've integrated multiple apps and services with your laptop. Before you reformat the drive and prepare your MacBook for sale, it's a good idea to perform the following steps.
Turn off 'Find My Mac' 
For privacy reasons, it's a good idea to turn off this feature before selling your old MacBook. Go to 'System Preferences' > iCloud > uncheck 'Find My Mac' and enter your password to confirm.
Sign Out of iCloud
Once you disabled 'Find My Mac', you can proceed with signing out of iCloud. Go to 'System Preferences' > iCloud > 'Sign Out'. After you sign out, all your iCloud data stays there and on any other device you've signed into with your Apple ID. To verify that you successfully signed out, check iCloud's Settings page and make sure your MacBook is no longer on the list of devices. If it is, click to remove it.
Log Out of Other Accounts
If you happen to use any subscription services that limit how many devices can be signed in, make sure you sign out of them on your MacBook. Also, don't forget to log out of any online services you're currently using, such as Gmail, online banking, Dropbox, etc. 
Sign Out of iMessage
This is an important step if you want to avoid unauthorized access to your text messages. Also, no one will be able to send messages on your behalf. Go to the Messages app > 'Preferences' > 'Accounts.' Select your iMessage account and sign out. 
Deauthorize Your MacBook
If you're using macOS Catalina or Big Sur, open the Music app, click on the 'Account' menu, and select 'Deauthorize This Computer.' If you're using an older version of macOS, this step can be done through iTunes. 
What to Do Before Selling a MacBook: Erase the Hard Drive
Once you've completed the above steps, you can wipe your MacBook clean. Restart your computer and while the system is booting, press and hold Command + R.  The loading screen will pop up and the MacBook will be in recovery mode. Open 'Disk Utility' app, select your primary disk, and click 'Erase'. 
What to Do Before Selling a MacBook: Reinstall macOS
The final step after reformatting the drive is reinstalling the operating system. Exit 'Disk Utility' and choose 'Reinstall macOS.' A clean copy of the latest operating system compatible with your MacBook will be installed – a nice gesture for the next owner. He or she can later upgrade macOS with their own Apple ID.
Conclusion
Once your personal data has been safely removed from your old MacBook and the computer was restored to its factory settings, it's now ready to be sold. We hope our simple guide on what to do before selling a MacBook has proven to be beneficial. If you don't know where to sell your pre-owned MacBook, Gadget Salvation is a great place for MacBook trade in.