Learn how to get your old MacBook Air ready for sale and discover the best ways to sell your pre-owned computer.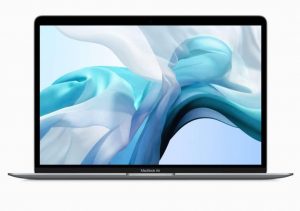 If you are a MacBook Air user and you've had your device for a while, you might be thinking of selling it before purchasing a newer model. MacBook Air trade in is an easy process and there are several places where you can sell your old laptop for most value. Below we outline the main do's and don'ts of selling your MacBook Air and the best places for the trade in. Also, read our latest Apple MacBook Air 2020 review if you are considering purchasing the latest model.
MacBook Air Trade In: Do Create a Backup
Backing up your computer is essential if you want to sell it. The quickest and easiest way to back up your files, documents, photos, music, etc. is through a built-in Time Machine feature. All you need is an external storage device connected to your MacBook Air. 
As an alternative, you can use iCloud to keep a backup of your data. You might need to purchase additional storage as Apple only offers first 5GB for free, but iCloud is quite handy if you have other Apple devices such as an iPhone or an iPad.
MacBook Air Trade In: Don't Forget to Sign Out
To prevent anyone from gaining access to your personal information, it's a good idea to sign out of all your accounts before selling your laptop. Don't forget to sign out of iCloud, iMessage, and iTunes, as well as any apps and online services you're currently logged into. It is also highly recommended to unpair any Bluetooth devices you might have, including a mouse, headphones, Apple Watch, etc. 
MacBook Air Trade In: Do Erase and Reinstall macOS
Once you created a backup and signed out of all your services, it's time to erase your Mac's drive and restore it back to its factory default settings. The easiest way to do this is through Disk Utility:
Shut down your MacBook Air

Turn it back on and press 'Command' and 'R' keys at the same time

Select 'Disk Utility' in the utilities window

Choose Macintosh HD and click 'Erase'

After the process is complete, you can reinstall the original version of macOS that your MacBook Air came with
MacBook Air Trade In: Do Find the Right Place to Sell
When it comes to MacBook trade ins, there are several places to do it. The right choice depends on your device's condition, whether you plan to buy a new laptop right away, and so on. You can choose a trusted third-party company, communal platform like Craigslist or Facebook Marketplace, or an official Apple trade in program. Here are our top recommendations:
Gadget Salvation
Gadget Salvation is a trusted third-party platform where you can MacBook Air trade in quickly and safely. The trade in process entails some questions about your device, based on which you will receive an estimate. Then, all you have to do is pack your MacBook Air and ship it using a prepaid UPS label. You will receive your payment within two business days via cash, PayPal, Venmo, or bank account transfer. 
As you can see, the process is fast and reliable and you will receive the best price for your gadget. 
Craigslist or Facebook Marketplace
While these options offer speed and convenience (all you need to do is write a short description and add a few photos), they are not very safe and reliable. Facebook Marketplace is connected to your Facebook account, so there is less anonymity, but both options entail meeting complete strangers in person, which does sound a bit risky. Make sure to meet your buyer in a public space and be honest about the condition of your laptop to avoid any misunderstanding. 
Apple Official Trade In Program
If you're planning to buy your next computer directly through Apple, official Apple trade in is a viable option. Once Apple evaluates the state of your MacBook Air through some questions, you will receive a trade in estimate in the form of an Apple gift card or instant credit at an Apple Store of your choice. Drawback: the value you will receive won't be the best on the market. 
Conclusion 
If you're not sure what to do with your old laptop, MacBook Air trade in is a good option to receive some cash or store credit. Once your computer is ready for sale, spend some time deciding which trade in option is right for you.