Discover how to prepare your old iPhone for trade in and where to sell it.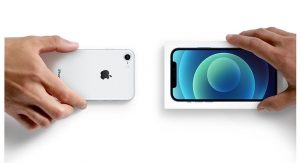 If you decide to upgrade to a newer Apple iPhone model, you're probably wondering what is the best place for your old iPhone trade in and how to properly prep your device before sale. There are several essential steps you need to take to ensure your old smartphone is ready for its next chapter, as well as few possible options for a smooth and easy trade in experience. We share our guidelines and suggestions below. If you're thinking of getting the latest iPhone 12 Pro Max, you can read our review.
iPhone Trade In: Preparing Your Device
1)  The first thing you need to do before parting ways with your old iPhone is to properly back it up. You can backup to your computer or create an iCloud backup. After you get a new iPhone, you can easily restore all your data on it.
To back up with iCloud:
Make sure you're connected to a Wi-fi network
Go to Settings > tap your name at the top > click iCloud
Tap iCloud Backup and click Back Up Now. The process might take several minutes.
2) After you finish the backup, make sure to sign out of iCloud, iTunes, and the App Store to prevent unauthorized access to your personal information in the future after iPhone trade in.
3) Turn off Find My iPhone
4) Deregister iMessage to avoid the possibility of your old iPhone receiving messages addressed to you
5) Unpair Apple Watch if you have one
6) Erase your iPhone's data and settings. Apple recommends for the iPhone to be fully charged or connected to power before starting the process. This step may take a while, depending on the iPhone's model and the amount of data on it.
7) Lastly, if you have other Apple devices, remove your old iPhone from the list of trusted devices. Now you can proceed with iPhone trade in.
iPhone Trade In: Where to Sell 
There are a few ways you can trade in your used iPhone, including Apple's own trade in program, trade in organized by the major cell phone service providers, and official third-party companies like Gadget Salvation.
Legit Middleman Service :
If you're looking for a reliable, quick, and efficient trade in experience, as well as the most value for your old iPhone, then Gadget Salvation is the right choice for you. The company offers a seamless iPhone trade in process and prides itself on being awarded the A+ rating from the Better Business Bureau.  Gadget Salvation will let you sell your device in just a few easy steps. All you have to do is answer a few questions about your device to receive an estimate, ship it via UPS using the prepaid label, and receive your payment within two business days (via check, PayPal, Venmo, or bank transfer).
Apple Trade in Program
Apple trade in program may not offer the best price for your used iPhone and the device has to be in great condition, but if you're planning to buy your next iPhone through Apple, the company will quickly apply credit towards your purchase. It's worth mentioning that Apple will offer the highest price if you do the iPhone trade in when purchasing another device. The value of the standalone trade in will be less for the same device. You can trade in your old iPhone with Apple in two ways: directly in a retail store or by sending your device to Apple using a full trade in kit.
Service Provider
If your service provider offers a buy-back option, that could be a good way to get your old iPhone off your hands. This option is particularly appealing if you're upgrading to a newer model. Unlike Apple, cell phone carriers are usually more lenient when it comes to the device's condition and the deals are constantly changing and worth keeping an eye on.
Conclusion
Out with the old, in with the new. Trading in your old iPhone for cash/credit is a good and environmentally friendly way to partially cover the cost of your new smartphone. All you need to do is prepare your iPhone for sale following the easy steps we outlined and find the trade in method that's best for you.